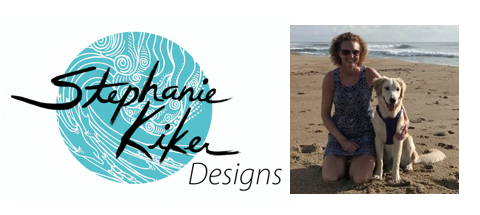 Hi, I'm Stephanie Kiker & I love living at the beach...and on an island in the Outer banks, NC.
The smells, sounds, water, wind, wildlife all make it a wonderful place to be. This place gives me inspiration for my artwork and creativity. Whether it's on the beach, on the water, under the water, in the marshes, or in the sound I enjoy creating my own interpretations and expressions of the wildlife and their surroundings. Textures, colors, patterns, shapes, movement all play a part in my pieces. I move from realism in my soft pastel works to bold graphic shapes, patterns and colors in my colored pencil/ink and silk painting work.
I feel lucky to be able to enjoy the natural beauty of this area and experience it much of the time through kiteboarding and surfing. Along with the exhilaration of the sports, it gives me the chance to be surrounded by the smells, sounds, water, wind and wildlife that inspire me so much
 I create all my artwork by hand with colored pencils, ink, soft pastel or silk painting. From there I use a high quality scan to create the products. I produce all of my products myself. This gives me total control over reproduction, colors and quality.